Barking & Dagenham 2-1 Hackney
BARKING & DAGENHAM BOYS kicked off their campaign with a narrow victory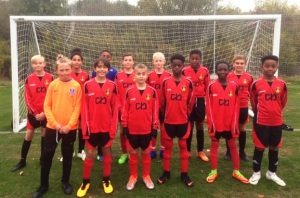 over fellow East-Londoners, Hackney. Although it was their first game of the season, there were few signs of rustiness as the new squad gelled superbly in an impressive display.
Barking and Dagenham started very well, their excellent movement a pleasure to watch.
Against the run of play Hackney went into the lead with a well-taken goal.
Barking & Dagenham continued to apply pressure which paid off handsomely when Lewis Skam netted to open the home side's account for the season.
In the second half, a whipped corner by Shay Scott found the head of John Bartram-Richards to put Barking & Dagenham ahead.
Both teams worked hard and were a credit to their boroughs with the sportsmanship shown.
Barking & Dagenham:
L Skam, C Nwosu, J Bartram-Richards, D Nkrumah, B Jones, T Akinyimika, S Nurse,    L Hart, S Scott, A Golambeckis, F Hills, G De Sa, E Lenkevicius